Studying in the UK – Types of cuisine and takeaways
As a multi-cultural society embracing a variety of religions, cultures and international communities, we have begun to enjoy a vast range of foods and meal options.  Whether you are cooking at home, going to a restaurant or getting a takeaway, there are plenty of culinary options. If you're planning to study in the UK and wondering what food is like, keep reading!

What's a Sunday Roast?
A traditional Sunday Roast is a traditional British main meal that is typically served on Sunday (hence the name), consisting of roasted meat (chicken, beef, pork or lamb). It's normally served with roast or mashed potatoes, and accompaniments such as Yorkshire pudding, stuffing, gravy and mint sauce. It is not at all unusual for a traditional Sunday lunch to now be perhaps now Harissa and Honey Chicken with Almond Tabulleh or a Pomegranate and Molasses Chicken Hotpot.  The search for new recipes from around the world has gone viral and everyone is sharing their new recipes online for others to enjoy.  Cooking at home has become fun and "travelling" the world in food is the way to unwind.  The enjoyment of food and cooking has returned to our kitchens as we experience new and exciting dishes.

Where to find international food in the UK?
Whether you will shop in a local delicatessen or a supermarket; the choice of food in the UK is endless. Indian recipe ingredients in one aisle and Chinese in another.  There will be European options and so much more.  The world has shrunk and is available everywhere in terms of food in the UK.

For those who like to eat out; it is a similar picture.  The takeaway businesses are open for delivery or collection. These comprise those names you will recognise such as McDonalds in the larger towns and cities.  There are options from a company called Deliveroo – you choose from menus online and order and your meal is delivered to your door within an hour or so.

Whether you want a continental option, an Asian dish or a simple fish and chips – it is no problem and you can choose a different meal each day if you so wish.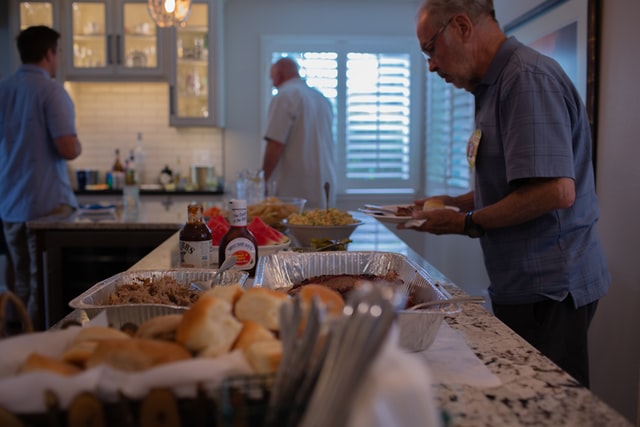 Vegan, vegetarian and other options…
It is also a blessing for those of us with dietary needs that the UK have a focus for us. Whether you have an allergy, a condition requiring a specialist diet or have chosen to be a vegan or vegetarian… Whatever your needs you will find that not only the supermarkets cater for you but the restaurants and cafes will too.  No-one is forgotten in this country when it comes to food and dietary needs.

Restaurants and cafes serve a variety of culinary delights – it is not unusual to find Chinese and Indian Restaurants next door to one another and an option of 3 or 4 European Restaurants close by.  The choice is vast and your options are plentiful.

The UK population enjoys being out and in the summer relishes the opportunity of finding a restaurant or a local pub where they can sit and drink and eat in the sunshine with their friends and family. Barbecues are also really popular in summer. It is a sociable affair whether you choose to go out or stay at home – come to the UK to enjoy culinary delights from around the world quite literally!